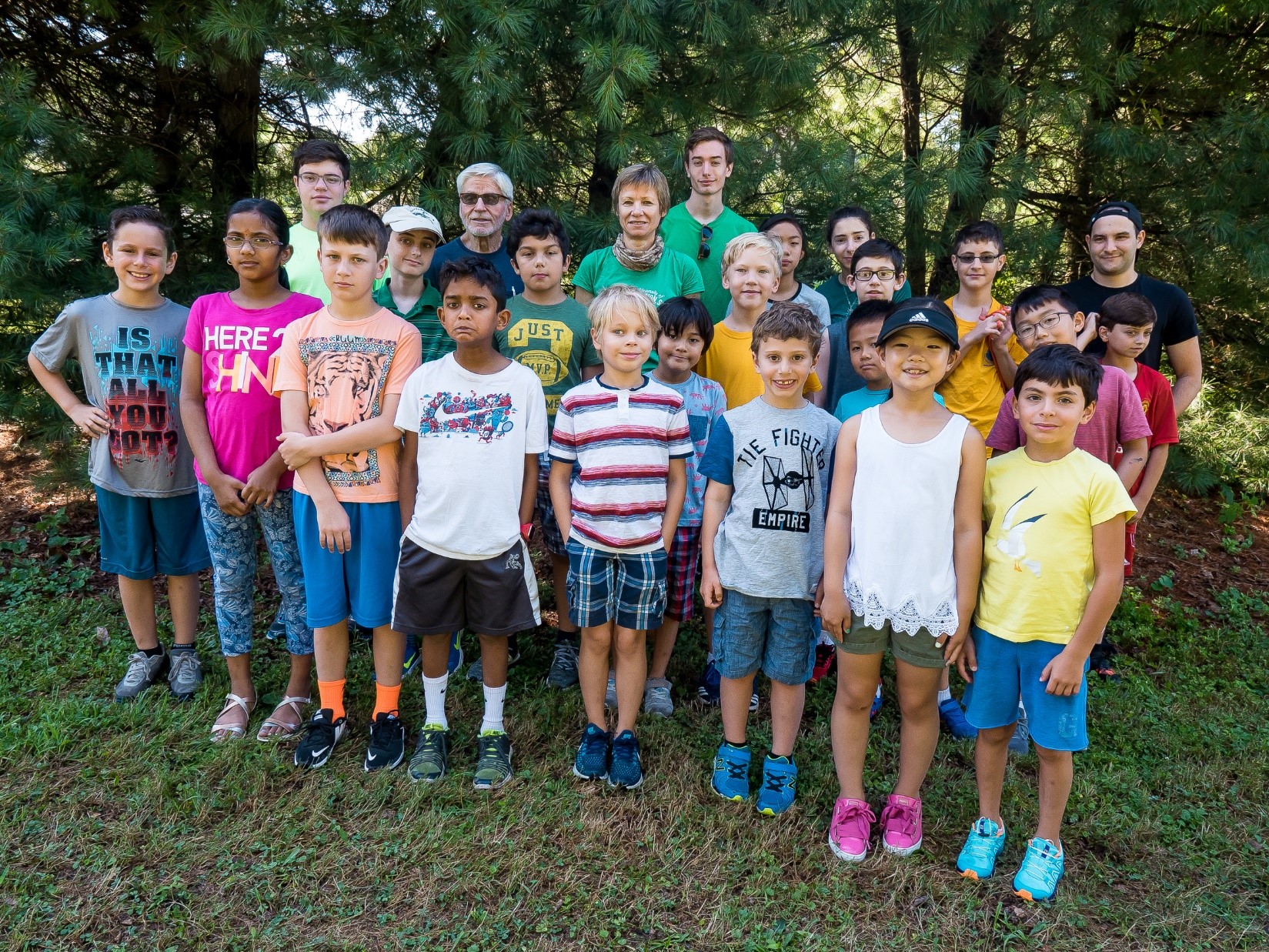 If you are wondering why it was so crowded during week five of the ICA Summer Chess Camp in Glen Rock, the answer is pretty simple—celebrities are here to teach your kids how to play chess!
We are happy to introduce famous world-class trainer and Grand Master Alex Chernin. He conducted classes for the strongest group at the ICA Summer Camp in Glen Rock for this week only. We hope that every camper had a unique chess experience and was able to acquire some new chess insights while having fun!
Alongside GM Chernin's group, we had the traditional Day Camp as well as Master and Grand Master camps with Master Sergey Grabuzov and GM Alex Stripunsky, respectively. Because we had many students this week, we had six tournament sections.
Aryeh L. and Ryan shared first place in the GM Camp section, while Caleb took second place.
Ilya won the Master Camp section, and he reinforced his victory in the group by also winning Sergey's blitz tournament.
There were three tournament sections in the Day Camp. Michael won section three, and Ron took second place. Kirill and Stefan were the strongest in section four. Alex K. won in section five, and Suvir took first place in section six, in which Kai came in second.
The best students in their chess groups were:
Alex C. (GM Camp A) – Robert
Unlike in the previous weeks, nobody wanted to fight for the Homework Prize this week. However, as is typically the case, there was a very hard fight in the Problem Solving Competition. Debra fought the hardest and was the winner in the open section, in which Kirill got second place. Suvir was the strongest among unrated players.
Ron beat a coach quickly on Monday to lock up his prize in the Survival in a Simul Competition, so we had to do something to motivate the campers to continue to compete. We decided to introduce one more award in the open section. Kirill, who played with our coaches every day (sometimes engaging them one-on-one) got this prize. Suvir was the final winner in Survival in a Simul, adding another victory in unrated sections to his list of achievements!
The Team Blitz and Bug House Competition continues to be the funniest and most vibrant chess event of the week. Prizes were awarded in two sections. Caleb & Ilya won in the GM Tournament, and Ron & Emilien were the strongest players in the Day Camp tournament.
Regarding the sports prizes, Master Camp had the opportunity to compete alongside the Day Camp as their sports schedules coincided. The Day Campers dominated, winning most of the sports prizes. Additionally, the Day Camp teams were stronger in both dodge ball and soccer. The dodge ball winners both won quite easily, sealing their victories on Thursday (one day before the end of the camp). Quinlan (boys) and Sophia (girls) were victorious. In contrast, there was a dramatic tiebreaker on Friday in soccer as Mathias and Luke decided their battle with penalty kicks! The competition was very emotional, just like the match between Russia and Spain during the recent World Cup in Moscow! Mathias won with a score of 3-1 and was the best soccer player in week 5!
The winners of the Sports Groups were
Group 1 – Luke, Kai
Group 2 – Emilien
Group 3 – Alex K.
Group 4 – Mathias
Miki got the Healthy Lunch Prize this week, and Joey earned the Best Effort Prize, Nicholas was the Most Organized camper, and Michael won the Art Contest.
We were excited to celebrate two birthdays this week! Miki received the Birthday Girl Prize, and Stefan received the Birthday Boy prize! Happy birthday to both!
Despite the fact that GM Alex Chernin has finished his work in our camp, next week will be even more crowded than the previous one. Unfortunately, there are no more open spots in week 6, but we still have some availabilities for the later weeks. Sign up soon before they too are full! We promise that your children will be able not only to significantly improve their chess skills, but also find new friends, play a lot of sports, create a lot of art, and earn lots of prizes!